A year-round skiing

: that's the dream of every cross-country skier, but with the end of winter, everyone tries to mantain his physical condition achieved, by cycle riding, running or rollerskiing. Among all the sports that a cross-country skier practises of course during the hot seasons, rollerski is the most similar to cross-country, at least as regards athletic gesture. Still not so many cross-country skiers do practise it, sometimes because they think it's too fast and dangerous, sometimes because it's hard to found proper training tracks. Traditional rollerskis, both for training or for competition, is bound to asphalt roads; and the increasing traffic with the ondulating nature of the tracks inevitably discourage people who'd like to approach to this beautiful sport.

It has come to our knowledge that ROLSKI company has produced an off-road rollerski, in a first time from the magazine Scifondo, and then from the enthusiastic comments of our friend Enrico Guarini, who's one of the first lucky users of this unusual piece of apparatus. Then ROLSKI company gave us one of these prototypes, and finally in a middle-May day, gathered some good cross-country skiers together, we began the tests.

The prototype produced by ROLSKI company from Bovisio Masciago (Milan). The final model, slightly shorter than the one we tested, will be available from the first days of July 2001.
Test group
From the left: Marco Fabbro, Paola, Claudio Neri e Giuseppe Querinuzzi, all good cross-country skiers and skirollers; Paola, present as an observer, after a brief attempt, prefered to go ahead by sheer force.
The model we tested had wheels with inner tube tyres, the pressure was set out to 2 bar (max pressure indicated on the tyre is 2,5 bar), but it proved to be not so good for the rear wheel. We think that the wheels' pressure has to be estimated by the athlete's weight, and in any case, must be higher in the rear wheel. In a following test, we pumped the tyres up to a pressure of 2,5 bar (front wheel) and 3,5 bar (rear wheel), this enabled us to eliminate the "bounce" effect we noticed before (nda).
The tests took place along some dirt roads, with different kinds of ground, in the piedmont zone of Castello di Aviano (Pordenone); we chose this place because it is the home-place of skiroll.it The track is flat with slight level differences and a final gravel slope.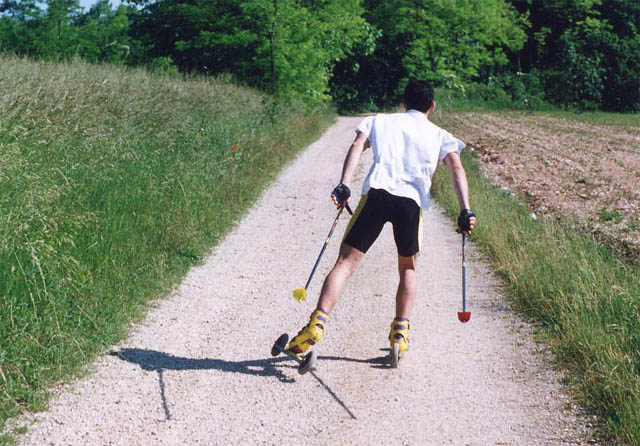 First tester was Marco Fabbro, who, after a few minutes of adaptation, showed to be perfectly at his ease. Then came the turn of the other testers, with different tracks and different grounds.
The first sensation remainds of "floating" on the asperities of the ground, moreover there is a stronger feeling of safety due to the absence of traffic.

By rollerskiing on tracks with prominent stones, you have the clear sensation of floating over the road, while with a low pressure of the rear wheel it occurred an annoyng bounce during the skating thrust.
Thanks to wheels with big diameter (15 cm), these rollerskis has proved to be very fast on firm dirt grounds.
In the classical technique test we noticed a weak tightness of the ratchet (on all the wheels), due to a skidding of the spacers, which in this prototype, consisted each one in two even washers. It has been enough to change one of the even washers (the inner one) with a knurled one, in order to obtain the utmost tightness of the ratchet.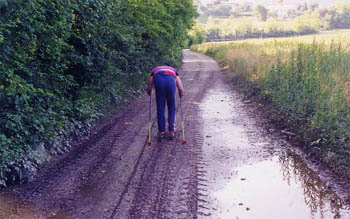 With the off-road rollerskis it is possible to do a better strenght-work for the arms thanks to the better grip of the sticks as well as to the variety of the ground.
Since the capacity of going through prohibitive grounds for normal rollerskis, off-road rollerskis rappresent a fine solution for training for people unable to reach in short time cycle paths or to find well asphalt tracks.
On muddy and dusty tracks it seems necessary to use small mud guards.
The test was made with skating shoes. A precedent test, made by the author of the article, with Combi shoes, has ben very hard for the ankles, however it is not impossible that people with strong ankles could use such type of shoes.
Conclusions
These rollerskis should be considered complementary and not an alternative to traditional asphalt rolerskis; in fact they are a good opportunity for training in different ways (both as regards quality and quantity). The feeling these off-road rollerskis offer on firm dirt tracks is quite similar to the one offered by cross-country skiing on run, meanwhile the sensation you have on hard grounds can have a good comparison with off-run skiing. As it happens with ski, you have to get a certain sensibility in the leg thrust on skating, to avoid lateral skidding. Off-road rollerskis are also very good on ruined asphalt roads, where traditional rollerskis are useless, moreover they have an exellent grip on wet asphalts.
The judgment of all the athletes gathered for the test has been very positive, these rollerskis proved to be very light and fit for both classical and skating technique, the only term is to use shoes with high side rigidity. Sometimes an eccessive flexibility came out at the sole level of the shoe.
| | |
| --- | --- |
| | The back wheel of 15 cm diameter |
Technical caracteristics
Weight without attacks: 1960 gr the pair
Lenght of the wheelbase: 707 mm
Size of the wheels: 150 mm
Size of the tyres: 6x11/4
Minimum height from the ground (unladen): 50 mm
Ratchet system on all four wheels
Rear wheel diameter: 15 cm
Test results summary:

Control (1-10)
Classical technique

6.9

Skating

7.2

Stability

6.4

Manoeuvrability

6.7

Flowability

7.2

Hindrance overtaking

8.0

Snowplough braking

6.1

Incidence of the rollerskis' weight

6.1

Use applications (1-10)
Gravel ground

6.0

Firm dirt ground

8.9

Unregular ground (holes and level differences)

7.8

Grass tracts

3.6

Wet ground

6.1

Muddy tracts

5.8
La redazione di skiroll.it
Aggiornato il 16-11-03.