From a SciFondo's idea and following the example of what has been taking place for some years yet with cross-country skis, we have decided to do a test for rollerskis. It is the first attempt of this kind to be done in Italy, and certainly it has been a useful and interesting experience. We have examinated training rollerskis of both techniques, the very useful and unfailing tool in the cross-country skier's preparation in summer and fall.
There were present the three Italian Companies who produce rollerskis (Ski Skett, Ski Way and Rolski); they participated with great interest to the initiative placing the material at our's disposal. We have aslo tested Swenor (Norge rollerskis which are imported and distributed by Nones Sport) and a model by Marwe.
The testers' team consisted of five elements: a girl, Magda Genuin (21, from Falcade, member of the National team for "Turin 2006") and three athletes: Faustino Bordiga (31, from Predazzo [Tn] protagonist of long-distance races for years), Gianantonio Zanetel (30, from Primierotto, winner of the latest Coppa Italia) and Marco Cattaneo (26, from Varese, great cross-country skier and exellent rollerskis). Finally, a specialist, the undersigned, Marco Sella, National Instructor, trainer and person in charge of "Fiamme Oro" team.
Log Book
It's the tenth of August, we set off early in the morning, the work seems long and difficult; we have found a perfect place for the test along the main road which goes from Val di Fiemme to Val di Cembra. Everything is fine: sunshine, different kinds of asphalt and of slope, and, considering the period, no traffic. Under the alert and interested eye of the people in charge of the companies present there, we started the test.
The valutation considers the caracteristics, the conduct and the components of the tool, meanwhile it is not considered the prize, reliability and wear (which are difficult to be judge in a single test).
Rollerski of reference is the one ideal for training, or rather a tool with middle caracteristics of weight, velocity and stability, that bring it to be as similar as possible to cross-country ski.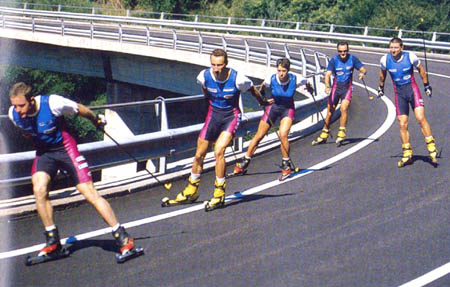 Every tester did a run of about 1 km and a half, at the end of which he filled in a form which in details valued: weight, stability, velocity, grip, vibrations' absorption, conduct on slope and on plain, conduct on rough asphalt and in curve, sensibility to the tyre's blend, ratchet's tightness, bar's flexibility and similarity with cross-country ski.
At the end, above these, we have also expressed an overall valutation. What you have here is the score of the valutations expressd by the team of testers, exept for the best and the worst vote in each category.