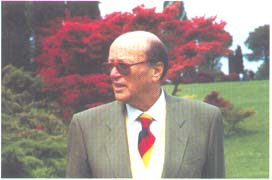 Fabio Crestani

was born in 1931 in "Fontanelle di Conco", a little town located in the Tableland of "Asiago Sette Comuni". He was still a baby when he moved to Sandrigo (Vicenza) where his parents had been called to teach at the local school.
Even though he grew up in Sandrigo, his affection always bound him to his town of origin where he had spent all his adolescence and in the family house in "Topi di Fontanelle" district any free moment of his ripeness. Keen on sports since ever an actively involved in welfare works he helped the setting ups and the management of many local organizations such as the Tennis Club and the "Alpini National Association". For 15 years he was also one of the members of the Town Council. In 1973 his innate enterpreneurship pushed him to constitute his own Company and he started producing some innovative equipment for the tennis-courts maintenance and inverted a particular and unknown pair of skis with wheels undermeath: the SKI SKETT. He thought up these skis to give to cross-country skiers the possibility to train during the snow-less months and in order to launch them, he thought about races.
He invented the rollerskis competitions and organised the first ones which took place among the towns of Sandrigo and Asiago, it was 1976. In 1978 he organised the first Italian Championship and in 1979 founded the Italian Roleskis Federations being the honorary president all through the existing period of the Organization itself. Thanks to is help, in 1992 the Federation became the International Skis Federation managing today the rollerskis discipline also.

Fabio Crestani passed away in Settember 1997, he was only 66 years old, but most of the organizations he founded are still existing and operating.
The SKI SKETT invented by Fabio Crestani are are now used among the best cross-country skiers in the world and are the world-wide most renown and appreciated rollerskis: they bring prestige to the Italian ingeniousness.