The interview of skiroll.it
---
Katerina Smutna
She is a student of Grammar School in Jablonec nad Nisou.. Her sport discipline is cross – country skiing and with this sport she takes part in the races on rollerskies in summer season as a special training device. However, in Czech, the rollerskies are special training device only of skiers during summer months. She achieves very good results on the World Cupsīs races. Old native from Jablonec nad Nisou, but member of FENIX SKI TEAM JESENIK, Katerina Smutna.
Promising skier from Jablonec nad Nisou, Katerina Smutna, reached many successes in juniorīs category and fans of cross-country skiing expected with tension how she will be successful in womenīs category.
This year, on European Championship in Jablonec nad Nisou, she took silver medal in the prologue ( 5 km classigue) from Bily Potok to Smedav ( a place of North Bohemia ). The day after she took gold medal from the race of 20km free style ( second in womenīs category).. Last day she was on first place in junior category and totaly ( junior and women together ) it was 4th place in sprint race…
Congratulation, Kata. It seems you can to specialize on rollerskies. But you do other sport..
My favorite discipline is cross-country skiing. Rollerskies are only complements for me.
It was cross – country skiing from the beginning??
As a child I started with modern gymnastic ( same as my mother ), but it wasnīt so interesting for me and for this reason I chose the other sport.
I know, you do sport for a long time. Just how many years do you do it in top level??
I had 11 years when I started with cross-country skiing.
When and who has taken you to the sport?
I won one of the school races and then I decided for this sport.
Why do you do cross-country skiing?
I am interested in this sport.
But you have reached great results, many "home-titles". And what about participation in an international races? Please, some results.
In 2002 I took part in World Junior Championship and I was 13th. Next year I wished to be in a podium, but due to illness it was only my wish...
Many of competitors may be envy to you your results on rollerskies… Please, give me some your best results..
2003 – Jablonec nad Nisou – 2x gold; 1 silver
2002 – WCH – 2x silver
Do you do some other sports?? And have you got some good results in them??
I like mountain bike, roller skates and I play football but only as training device during summer months.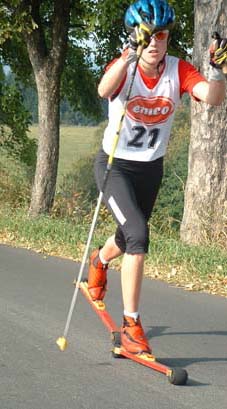 But for great results you have to train so much. Can you tell me, how many kilometres do you have to go through?
This year it will be approximately 6000km.
Now, you attend a grammar school in Jablonec. You will be graduated. But what after graduation?
I would like to study and do cross-country skiing in top level, of course.
Kata, you have 20. Do you have an idea how long would you like to do sport?
It depends on my results, healthy and how long will the cross-country skiing be interesting for me.
OK, but it will be not for eternal…Iīm sorry but what next after your sport activity?
Hardly to say but I donīt know now…
As I know, you was a member of Czech national team. But what happened you "W A S" only ??? Can you tell me why??
On World Championship in Val di Fiemme, coach of representation charged me from sabotage the race and after two days he sacked me from the national team. But it wasnīt sabotage of this race, I was not simply feeling well and for this reason the result wasnīt so perfect as expected by our coach and for this and many other reasons Iīm not a member of Czech National Team.
What is your sport target to this season??
To win some "home-titles".
Who is your favourite sportsman??
Bente Skari.
On which discipline do you specialize on??
My stronger style is classigue technigue, thus every distance with this technigue.
Do you have favourite race-place or track?
I like best the race-tracks on Misecky ( Krkonose ).
And what about your coach?? Can you tell me some words on his trainingīs metod??
I have trained with Radim Duda about 9 year..And I hope next 20 I will… J
Do you understand each other??
I think, our cooperation is on the best level..
You donīt have so much"free time". Have you got a boyfriend??
No, I havenīt got boyfriend now.. Iīm single.
Have you got any hobbies??
I havenīt got much time for hobbies as I study and all free time Iīm using for training.
Would you like to change something in your life??
Yeah, I would like to change many, many things….
Kata, many thanks for your time. I wish you many successes in sport and also personal life..
Profil - Katerina

Name: Katerina Smutna
Born: 13. 6. 1983
Abode: Jablonec nad Nisou
Heigh: 171 cm
Weigh: 56 kg
Club: FENIX SKI TEAM JESENÍK

Motherly club: Ski Club Jablonec
Job: Student

Dream : participation on Olympic Games
Veronika Hrušková
Aggiornato il 30-03-04.